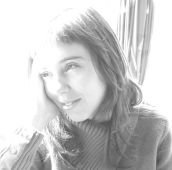 Sarah POSMAN

Lic. (Ghent, 2004), MA Literary Studies (Leuven, 2005), PhD (Ghent, 2010)

FWO postdoctoral researcher
Projects
"'Writing should go on': Gertrude Stein's literary thinking on time," BOF doctoral researcher, supervisors: Prof. Marysa Demoor and Prof. Bart Keunen, Oct. 2005 – Jan. 2010.
"Histoire croisée en culturele kruisbestuiving tussen België en Groot-Brittannië: Laurence Binyon, Olivier Destrée, hun netwerken en periodieken, 1890-1930," FWO, directors: Prof. Marysa Demoor and Prof. Hans Vandevoorde (VUB), Jan. 2010 – Sept. 2010.
"How to (re)write the past: thinking on history in American avant-garde poetry," FWO postdoctoral researcher, Oct. 2010 – Oct. 2013.
Books 
with Laura Luise Schultz (eds.), Gertrude Stein's Europe, essay collection in preparation.
Book chapters
"Literatuur." Deleuze Compendium. Ed. Ed Romein, Marc Schuilenburg and Sjoerd Van Tuinen. Amsterdam: Boom (2009), 299-312.
"Where Has Gertrud(e) Gone?: Gertrude Stein's Cinematic Journey from Movement-Image to Time-Image." Gilles Deleuze: Image and Text. Ed. Eugene W. Holland, Charles J. Stivale and Daniel W. Smith. London: Continuum (2009), pp. 41-62.
"Gertrude Stein between Pragmatism and Vitalism." Gertrude Stein's Europe. Ed. Sarah Posman and Laura Luise Schultz. Essay collection in preparation
Publications in international peer-reviewed journals
"A Bakhtinian Perspective on Feminist Lesbian Crime Writing." CLCWeb: Comparative Literature and Culture 8 (2006).
"Response to Michel Delville." New Conceptions of Literary Dynamics/Nouvelles approches de la dynamique" littéraire (OLITH). Ed. Jan Baetens, Dirk de Geest and Jürgen Pieters. Brussel: Koninklijke academie voor wetenschappen, letteren en schone kunsten van België (2007), 93-94.
with Debora Van Durme and Marysa Demoor (eds.). Special Issue "Melodies and Modernisms," accepted for publication in Texas Studies in Literature and Language, to appear in 2011.
"The Bergsonist Melody of Stein's Idealized Melody," accepted for publication in Mosaic, to appear in 2011.
Publications in other journals
"Staamren geen zingen." yang 42.1 (2006), 7-16.
"Bee noise: bij drie gedichten van Denise Riley." yang 42.2 (2006), 227-229.
"De man die taal plukt: interview met Kenneth Goldsmith." yang 42.4 (2006), 519-527.
"The right to shoes: over chick lit." yang 42.4 (2006), 559-566.
"The flowers of friendship: Gertrude Steins foute vertalingen," yang 43.2, May (2007), 257-263.
"Documents-et-caetera: the flowers of friendship, les erreurs de traductions," traduit du néerlandais par Kim Andringa, Action Poétique 190 (2007), 49-54.
"Precies loensen: bij zeven gedichten van Rae Armantrout." yang 43.4 (2007), 511-512.
"Rae Armantrouts probleem." Parmentier 17.2 (2008), 108-109.
Reviews
"Van femina faber tot cyberbabe: over Rosi Braidotti's Op doorreis." yang 41.1 (2005), 99-110.
"Gevoeligde Eruditie: over Siri Hustvedt's The Shaking Woman, or a History of my Nerves." De reactor, April 2010 and De Leeswolf, April 2010.
"Lang leve Anti-Oedipus." De Leeswolf, November 2010.